A riesgo de ponernos pesados con este sintetizador, después de cubrir los 8 meses de campaña de marketing y lanzamiento de Omnisphere (como ya dijimos probablemente una de las mas largas de la historia), no podíamos obviar el evento mas importante que es su lanzamiento REAL al mercado.
Así pues Omnisphere ya está en la calle y puede ser adquirido en las tiendas del sector (al parecer a Europa aun tardará unos días en llegar).
Omnisphere sale al mercado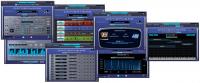 Hay pocas cosas que no se conocieran y que no hayamos ya mencionado aquí sobre Omnisphere.
Esencialmente de lo publicado ahora con el lanzamiento lo mas interesante y novedoso es la lista con todos los detalles del motor de síntesis de Omnisphere, efectos, etc., por lo que aquí tenéis la lista completa:

SYSTEM FEATURES:
• Powerfully simple interface design makes key features accessible to every user
• Advanced users can «zoom» into deeper and deeper synthesis capabilities
• Sophisticated Browser with searching, sound attributes, descriptions and images
• 8 independent Arpeggiators
• World's first Arpeggiator with Groove Lock™
– which allows the Arpeggiators to match the feel of Stylus RMX and MIDI Files
• Special performance-oriented Live Mode interface allows for seamless, interactive
creative patch switching and layering on the fly
• Stack Mode interface allows for complex patch layering, splits, and crossfades (velocity/positional/controller)
• 8-part multitimbral with built-in Mixer, Aux FX and Mastering FX racks
• Advanced MIDI Learn and Automation parameter handling
• Comprehensive integrated Reference Guide
• Hours of free Tutorial Videos available online to registered users
SYNTHESIS FEATURES:
• Oscillators can be sample-based or synth-based
• Up to 10 oscillators per patch with new Harmonia™ feature
• Flex-Mod™ modulation system allows powerful modular-style routing
• Dual Layer architecture
• High-definition streaming engine
• Variable DSP Oscillator Waveshapes
• Sophisticated Unison Detuning
• Variable Analog Feel
• Modulatable Hard Sync
• Granular Synthesis
• Innovative Chaos Envelopes
• Polyphonic Timbre Shifting
• Polyphonic Timbre Crushing
• Polyphonic Waveshaper
• Polyphonic Ring Modulation
• Polyphonic Glide
• FM Oscillators
• Dual Filter architecture per Layer
• Create filter combinations in series or parallel
• Arrange and blend more than 17 Filter algorithms
• Fully modulatable FX racks
• Alternate tuning scales supported
• 6 full-featured LFOs per patch
• 8 Advanced Multi-breakpoint looping Envelopes per patch
• Unique Dual Envelope interface – Simple ADSR-style or Advanced Graphic-style
• Sampled soundsources can be processed with synthesis features!
SOUND LIBRARY:
• Vast Core Library – over 40GB with thousands of sounds
• Cutting-edge sounds from the renowned Spectrasonics sound design team
• Innovative «Psychoacoustic» soundsources for organic synthesis!
• Unique multisampled «Composite Morphing™ soundsources
• Integrates the award-winning, original Atmosphere® core library
• Integrates best of Spectrasonics highly-acclaimed sample libraries
• Massive variety of inspiring sounds for all types of music production
• Searchable by sound attributes (Timbre, Genre, Mood, Tonality, Source, etc)
• Expandable sound architecture
EFFECTS FEATURES:
• Integrated, full-featured FX Racks
• Up to 12 simultaneous FX per patch
• Layer FX modulatable from any mod source
• Hundreds of FX presets included
• Over 32 original FX Processors covering the full spectrum of signal processing
Precio y disponibilidad
El precio de Omnisphere es de $499 US /€379 Euro y está ya disponible para su adquisición.
Precios del upgrade:
249 para los usuarios de Atmosphere.
$199 para los usuarios de Atmosphere adquirido durante 2008 y para usuarios de Mac Intel.
$149 – VIP Upgrade para usuarios de Atmosphere, Trilogy y RMX.